For an exhilarating night out, opt for a cocktail that comes with a side of adventure. Modern speakeasies, inspired by the secretive bars of the prohibition era, offer an elegant, exclusive experience for bar goers.
If you're looking to garnish your next cocktail with an exclusive experience, learn how to plan a speakeasy outing.
What is a Modern-Day Speakeasy?
Hailing back to the 20s, when prohibition was in full swing and alcohol was illegal, speakeasies were underground bars that cropped up to serve those looking for a drink. It was crucial that patrons keep quiet about these secret bars, thus the term "speak easy."
Today's speakeasies still offer an exclusive experience, minus the illegal activity. These hidden cocktail lounges can still be found by savvy party goers in bars tucked away behind secret doors, or password and membership-protected experiences that give you the thrill of exclusivity.
How to Plan Your Night Out at a Speakeasy
It's easy to find a mock speakeasy experience in a traditional bar with 20s-themed decor. For a true speakeasy adventure, however, you'll need to do some digging. These bars are intentionally hard to find, so you'll often need to do a bit of Googling or get a word-of-mouth recommendation.
It helps to know if the bar you're visiting has a daily password you need to know, a membership requirement, or specific directions to help find a secret door. This detective work is all part of the adventure – tracking down the right bar and the right hidden entrance is half the fun of a speakeasy outing.
Are you looking for a great speakeasy in Sacramento? They can be tricky to find since they are by nature more discreet than a traditional establishment. Luckily, we've got an inside scoop on some of the best hidden bars in town.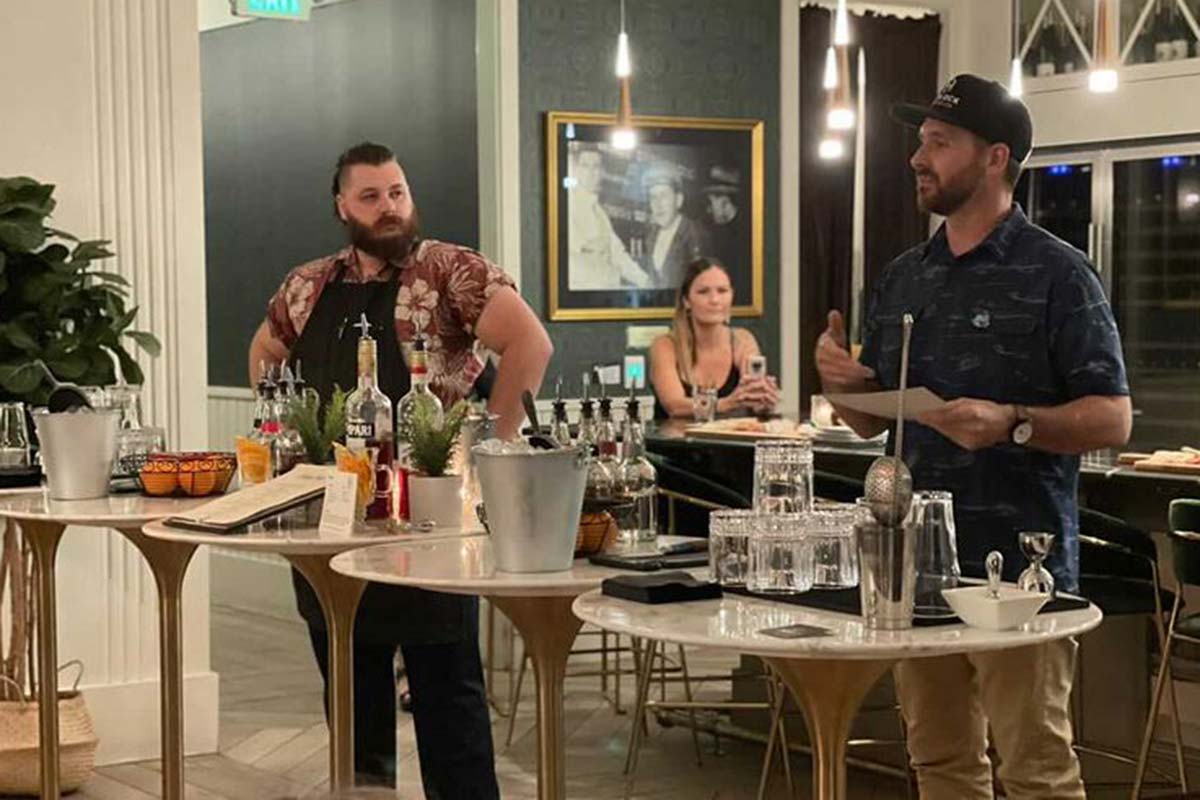 The founder of The Block, Matt Briggs, giving a cocktail class at Sacramento Speakeasy, The Trophy Club.
Local Sacramento Speakeasies
The Trophy Club
The Trophy Club is an exclusive experience hidden away within Flatstick Pub. This elegant cocktail lounge offers creative cocktails in an elegant setting. Plus, their delicious drinks are served over clear Block Ice.
The Trophy Club is accessible to members only, or by password when capacity permits.
Daniello's
Daniello's is a new speakeasy just outside of Sacramento in Roseville. Daniello's is owned by the proprietors of the neighboring Italian restaurant The Place, and offers a discrete tapas bar downstairs with an elegant steakhouse upstairs. If you're passing by outside, you may not even notice the bar – the entrance is cleverly hidden within a penny candy store.  
The Roost
The Roost is an intimate cocktail bar hidden within Bawk Chicken + Bar, tucked away behind a hidden door. Visitors get to experience the establishment's extensive selection of spirits and high-class concoctions in a luxurious environment.
Reservations, while not required, are highly recommended.
The Back Door
The Back Door, Old Sacramento's oldest lounge bar, is tucked away down Firehouse Alley. The Back Door is perfect for those looking for the fun of a speakeasy with a more casual vibe. Reminiscent of a dive bar, patrons rave about the jukebox and the excellent cocktails at this Sacramento classic. It's cash-only, so don't forget to hit up the ATM first.
A speakeasy is the perfect way to enjoy an exciting, elegant night out. Do you have a hidden favorite bar here in Sacramento? Share it with us on social media!