The Metaverse is one of the biggest trends of 2022 and cocktail makers, movers, and shakers are seeing a bright future by taking cocktails out of the bar and into a virtual world. Just how does one take a physical consumable – like a cocktail – and transport it into the Metaverse? These brands are blazing the way with everything from NFT accessories to digital bottles that can be exchanged for the real thing.
glass of your favorite spirit and get ready to explore the virtual world of digital collectibles and VR experiences.
Block Ice Collab Brings Craft Ice to 1687 Club NFT Avatars
Sacramento artisan ice maker The Block is collaborating on the first NFT drop from the 1687 Club. Unlike many NFT (non-fungible token) creators who randomly generate digital works of art, 1687 Club members can create their own big-cat-themed avatar using a proprietary builder or have a bespoke cat created and styled for them.
1687 cats can hold a variety of accessories, including alcoholic drinks such as a glass of champagne or an old fashioned glass of whiskey poured over a Block Ice cube. 1687 plans to drop additional cocktail accessory options featuring Block Ice artisan ice cubes, as well.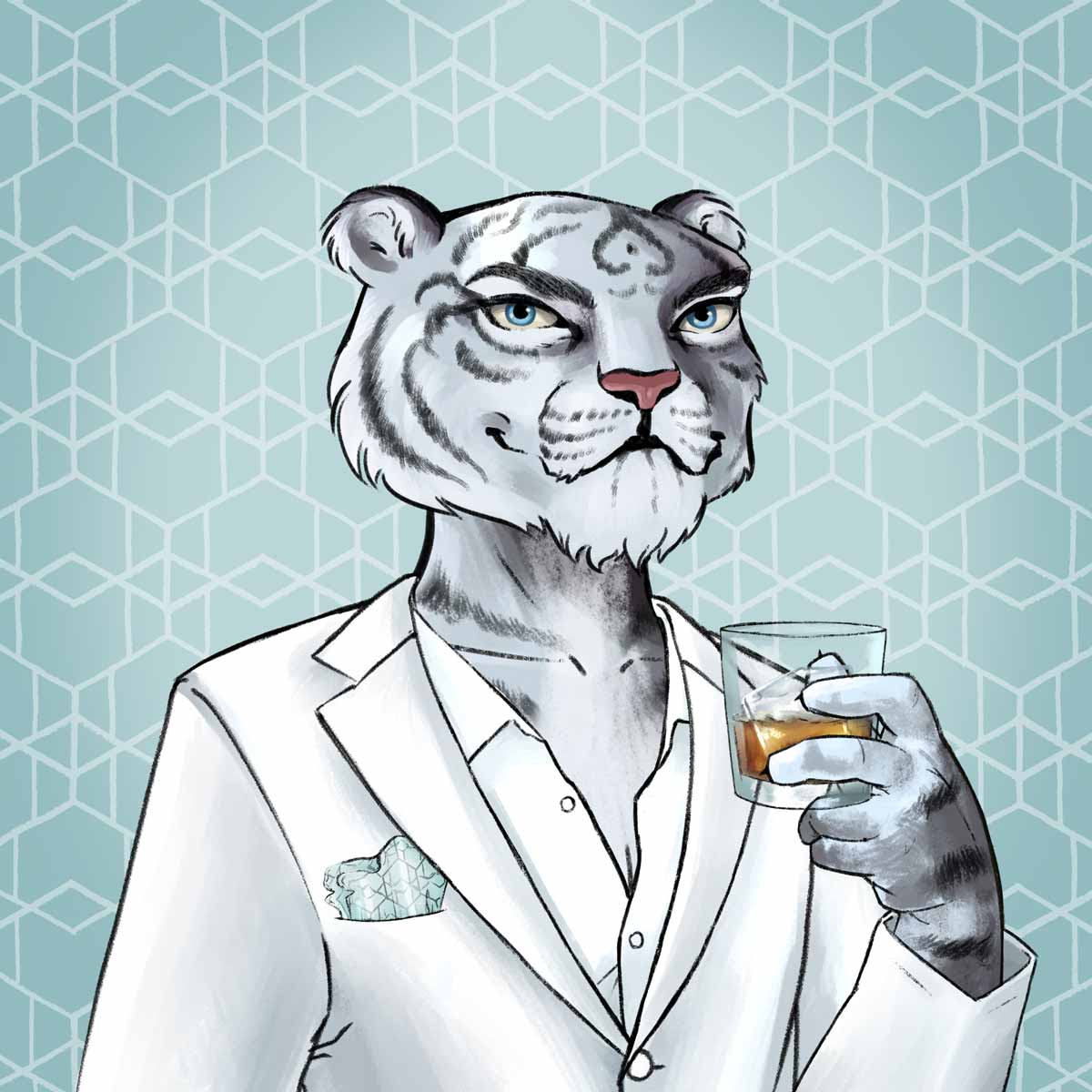 Picture of bespoke 1687 avatar created for Block Ice owner Matt Briggs. The Block Ice logo is incorporated into the background and pocket square, accessorized with a glass of whiskey and a Block Ice cube.
BlockBar Brings Luxury Spirits From Hennessy into the World of NFTs
BlockBar is a platform that offers NFTs directly from luxury liquor brands. Each NFT corresponds to a physical bottle of luxury spirits from brands such as
Glenfiddich
Hennessy
Patron
and more
In simple terms, consumers own the physical bottle, BlockBar stores it for them, and the digital version serves as proof of authenticity, verification of ownership, and the right to have the physical bottle delivered.
BlockBar bottle owners exchange the digital version of their bottles to receive their physical version. In order to receive the physical bottle, the holder's NFT gets "burned" and they no longer hold ownership of the digital asset.
One example of a BlackBar collab is the launch of Hennessy-8 from 250-year old cognac maker Maison Hennessy.
The new collection features Hennessy-8, a cognac masterpiece and tribute to eight generations of Master Blenders. The Maison's first NFT offering features Hennessy-8 (valued at $225k) available exclusively via BlockBar. The purchase of a Hennessy-8 NFT comes with physical collectibles, including a beautiful Baccarat blown glass crystal decanter, Riedel hand-blown crystal glasses, and a jewel-like copper key to open a physical chest.
Bacardi and Virgin Atlantic Collab on Digital 360 Drinks Experience
Virgin Atlantic has been taking travelers from the skies to the Metaverse since 2017, giving customers a visionary, virtual airport experience. Partnering with Bacardi, Virgin Atlantic offers its members an Immersive Digital 360 Drinks Experience.
Sounds complicated? The concept is actually quite simple. Travelers can access the experience at any airport that houses an esteemed Virgin Atlantic Clubhouse. While waiting for your flight, select a virtual destination from a list of localities, pop on a VR headset, and get transported to a virtual bar of your choice. In the real world, your Clubhouse bartender mixes you the specialty Bacardi drink from the virtual venue you've chosen.
The Adam Handling Restaurant Group Serves Up NFT Cocktails
British Chef and restaurateur Adam Handling is headed from the kitchen to the Metaverse with London's first collection of NFT cocktails. 
Handling's exclusive collection will include 13 pieces inspired by Eve's Bar signature cocktails created in collaboration with a local artist and various bartenders. NFT holders receive proof of ownership of the digital asset, a recipe card to make the unique drink at home, and the right to claim a number of the purchased cocktail in person at Eve's Bar.
Three of the NFTs are super rare, exclusive cocktails created by Eve's bar manager Marco Grisafi, head bartender Giulia Gazzetta, and Ugly Butterfly bar manager Josh Linfitt. Holders of these rare NFTs will receive a one-to-one private masterclass (in-person or virtually) to create their own bespoke cocktail with the NFT curator.
The Metaverse, blockchain technology, and NFTs are changing the way we buy, sell, and trade collectibles. And now it's changing the way we enjoy our cocktails, too. Maybe the phrase "old fashioned" will take on a whole new meaning in today's virtual world.
Want to experience The Block Ice IRL? Find us in one of these Northern CA bars and restaurants.