Infused ice is a unique spin on our beautiful handcrafted ice. Enjoy the same clarity and quality with the added beauty of embedded items that add flavor and class to your drinks. Infused cocktail ice cubes allow you to freeze garnishes directly into the ice cube, or add elements like flowers, fruit, or other items for a unique appearance.
Because of its striking appearance, infused ice is ideal for weddings, high-end bars and restaurants, and other events for a touch of elegance.
Learn how these stunning ice cubes are made.
How We Make Botanical, Herbal, and Other Infused Ice Cubes
Selecting Your Infusion
You have a wealth of options to choose from for your infused ice cubes. Infusions can include fruit like strawberries, oranges, or cherries. Or you could choose herbal ice with options such as sage, rosemary, mint, thyme, etc. For a stunning look ideal for weddings and celebrations, select edible flowers like chamomiles, marigolds, or pansies.
The team at Block Ice can work with you to select the perfect infusion for your cubes to achieve your vision.
Filtering the Water
Your infused ice starts with the same building blocks as every flawless cube we craft - pure water that has been filtered seven times. Our reverse osmosis filtration system purifies the water so that the only thing you'll taste from your finished cube is the infusion of your choice.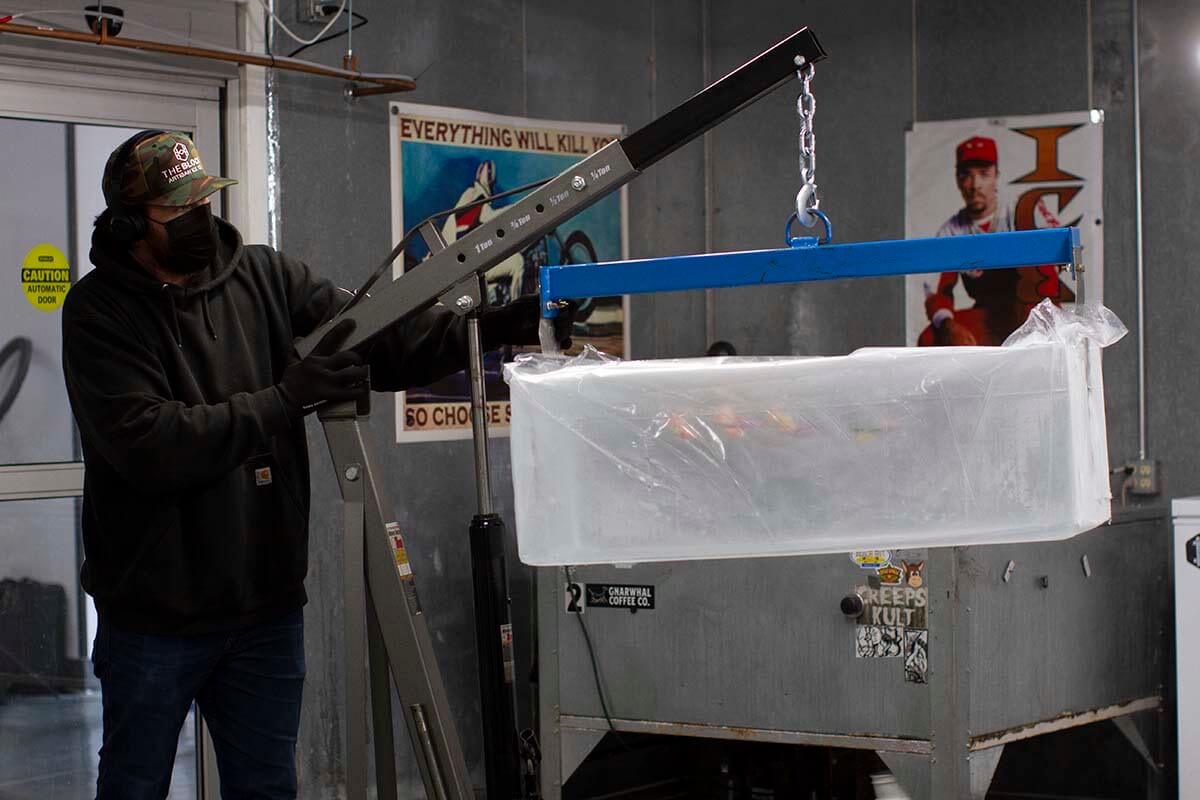 Freezing the Infused Ice
To craft our ice, Block Ice uses a specialized Clinebell Block Ice Maker. This freezer works by freezing ice from the bottom up, providing subtle movement as it freezes, eliminating any air bubbles from the ice for added clarity.
This bottom-up approach to freezing ice allows us to work in layers to create infused ice cubes. The infusions are added as the water freezes layer-by-layer, allowing the ice to form around the selected items.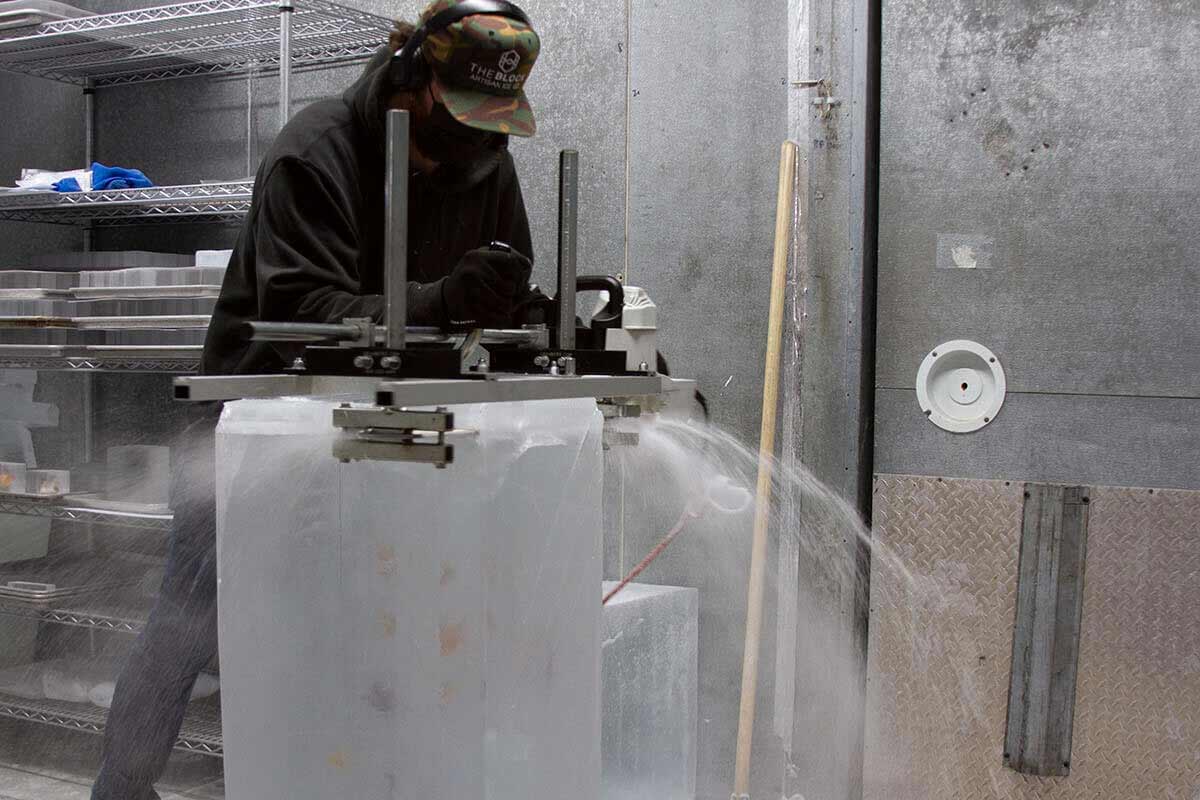 Hand Carving Each Cube
Once the freezing process is complete, we are left with a 300-pound block of perfectly clear ice, ready to carve into individual cubes and spears.
This meticulous process allows us to ensure that your cubes are perfectly formed with the embedded infusion.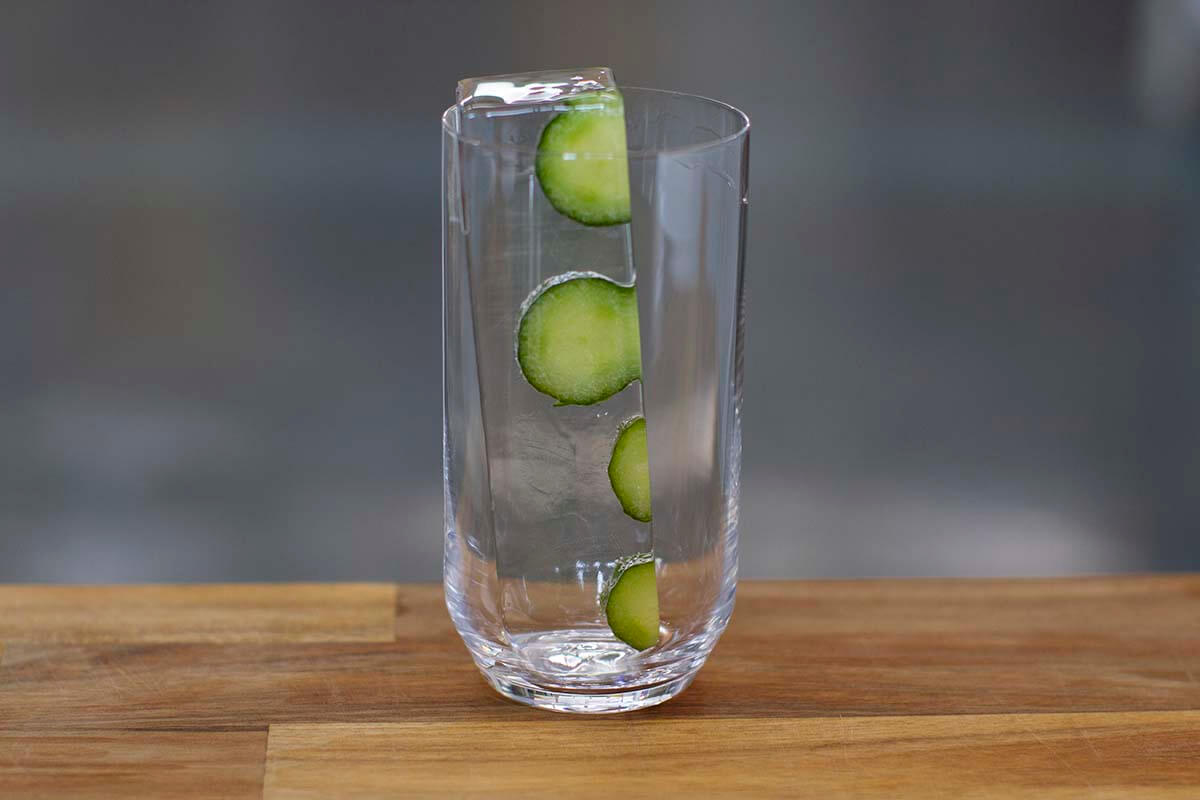 Menu Inspiration – Dress Up Your Cocktails With These Infused Cubes
Infused cocktail ice cubes add a touch of luxury to a beverage. If you're ready to get started, get inspired with some of our favorite cocktail-infusion combos.
Brighten up a classic Gin and Tonic with bright, cheerful lilac ice cubes.
A Sacramento favorite, the White Linen pairs perfectly with cucumber-infused cubes.
Add cubes infused with thyme or rosemary to make your Old Fashioned a little new-fashioned.
We carefully craft our infused ice, allowing you to enjoy all the clarity and quality of our classic cubes with an added pop of color. Order your infused ice now.