Spooky season is right around the corner, and that means the Halloween parties are soon to follow. We asked Al, our virtual Ai bartender, to come up with the perfect cocktails for your Halloween event. Save the stress for the costume you've been putting off making, and let Al do the rest.
Check out our list of 5 spooktacular cocktails that will have your friends screaming, crawling, and clamoring for more.
Ghostly Goblet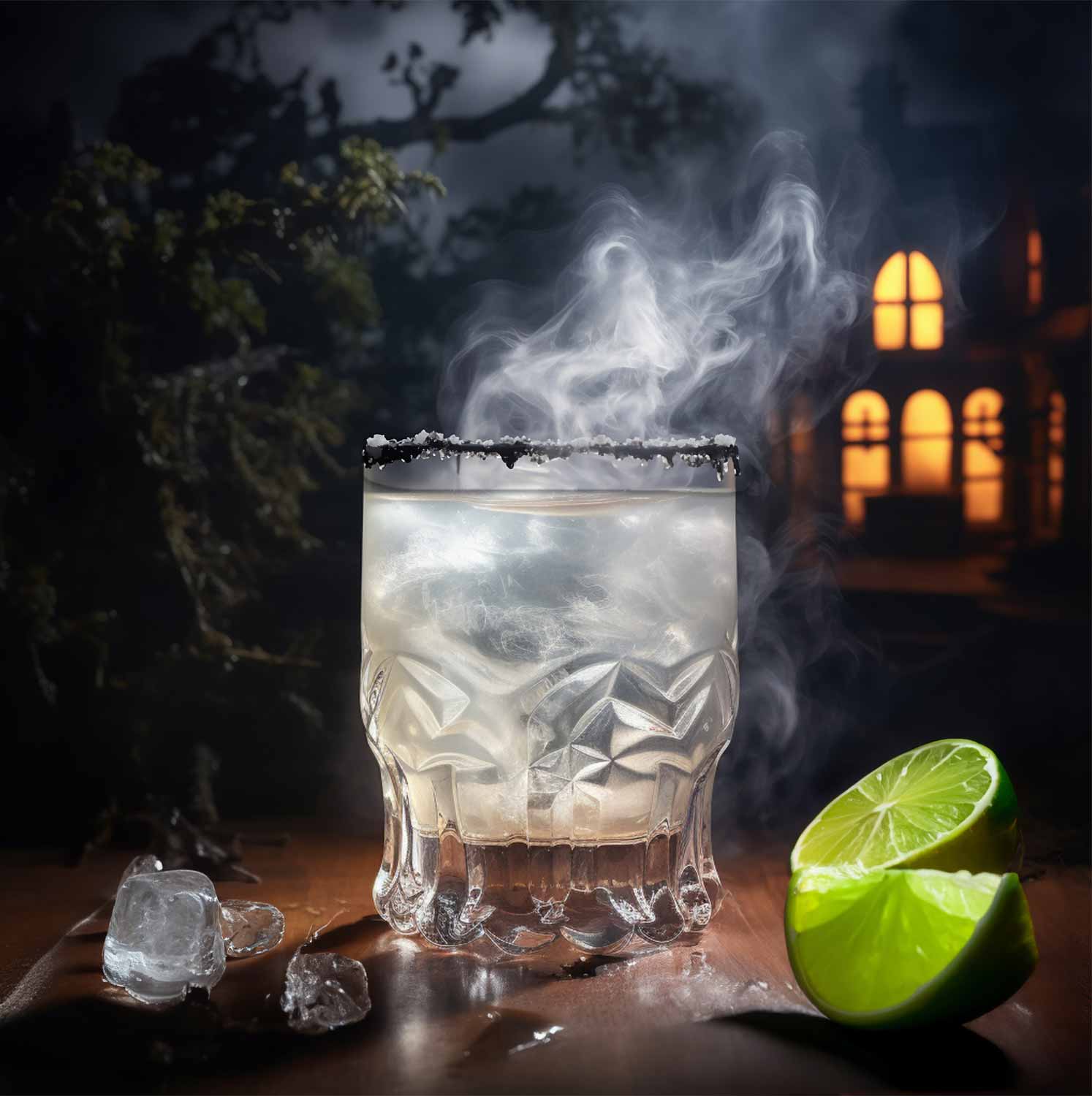 Combining the flavors of smoky mezcal and the sweet and sour touch of triple sec and lime, this drink will haunt your taste buds long after the last sip.
Ingredients:
2 oz Smoky Mezcal
1oz Lime Juice
½ oz Simple Syrup
½ oz Triple Sec
1 Large Block Ice Cube
Black Salt for rimming
Instructions:
Begin by getting the edge of a short rocks glass wet with water or lime and rim the glass with black salt.
Next, combine Mezcal, lime juice, simple syrup, and triple sec in a shaker and shake till incorporated.
Add a large Block Ice cube to the glass and strain the drink over it. Enjoy!
Witch's Brew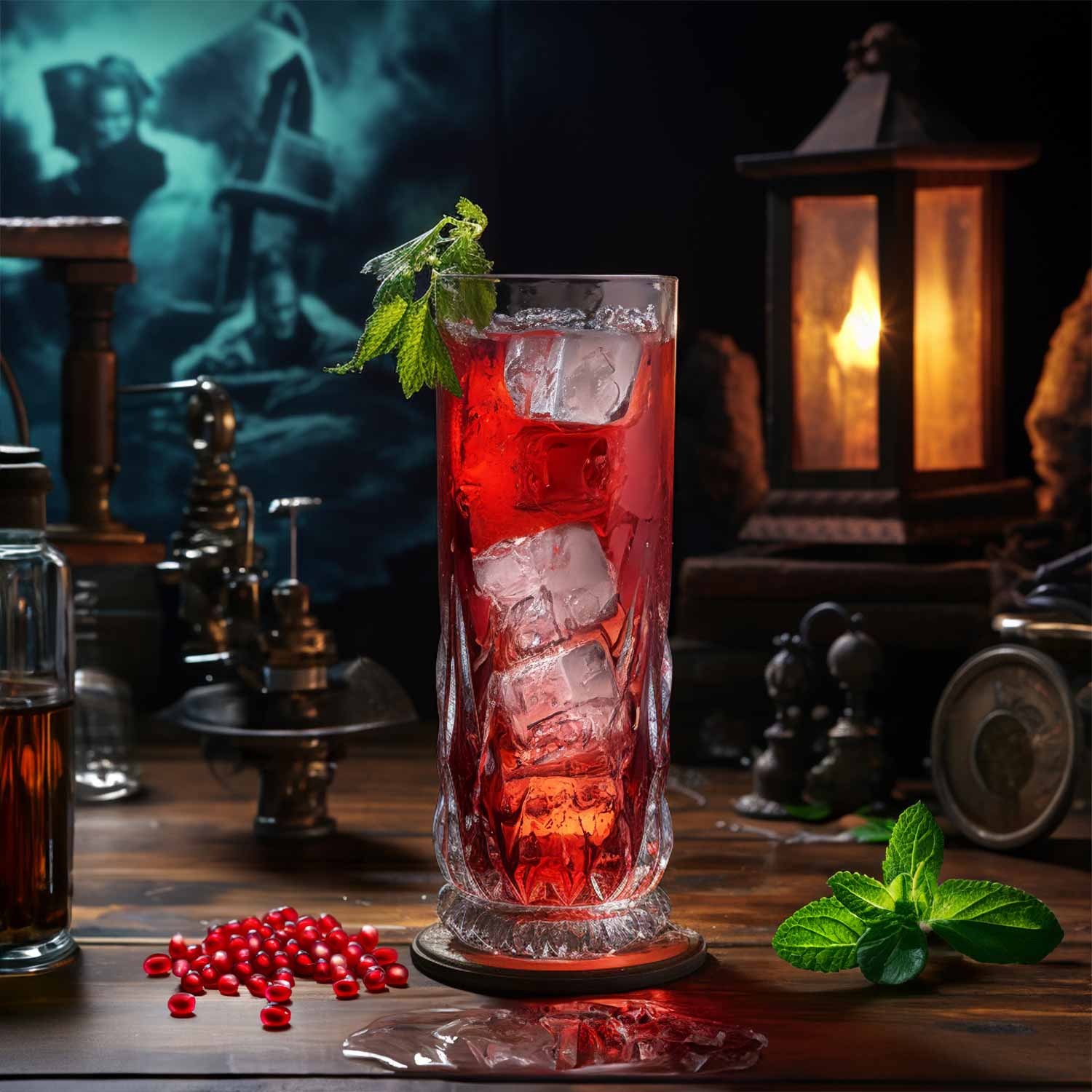 This enchanting potion includes flavors from your favorite dark rum and the sweet and acidic punch from pomegranate juice. Grab your cauldrons and dive deep into the depths of this dark concoction!
Ingredients:
2 oz Dark Rum
1 oz Pomegranate Juice
0.5 oz Lemon Juice or two lemon wedges
0.5 oz Agave Syrup
Fresh Mint Leaves
Instructions
Begin by muddling mint and two lemon slices in a tall Collins glass (if doing this, exclude the lemon juice)
In a separate shaker, combine rum, pomegranate juice, lemon juice (if not muddling), and agave syrup. Shake until combined.
Add a large Collins Block Ice cube and pour the drink over it. Bottoms up!
Vampire's Kiss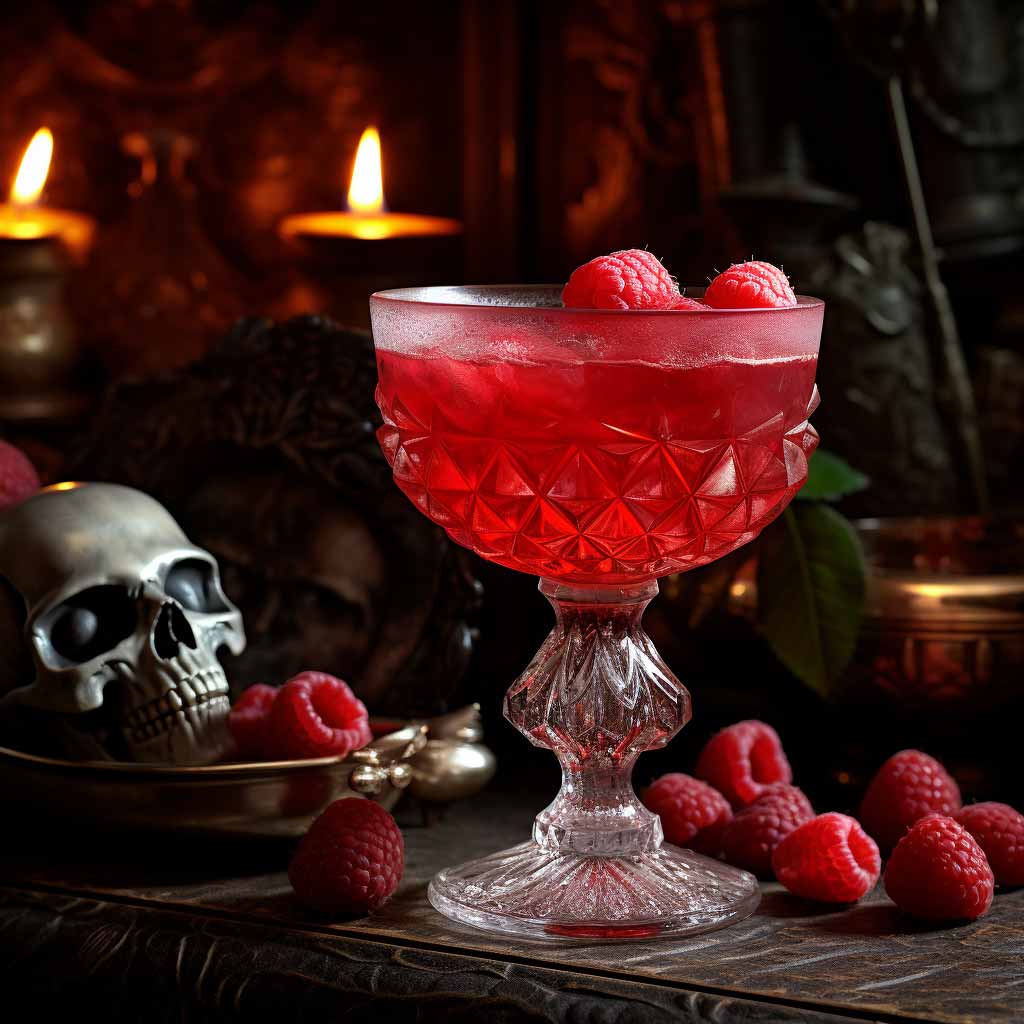 A seductive blend of sweet and tart, after your first sip, you'll feel its mark. Please drink responsibly, away from the sun, garlic, and silver.
Ingredients:
2 oz Vodka
1 oz Cranberry Juice
0.5 oz Chambord (raspberry liquor)
0.5 oz Lime Juice
Crushed ice or ice chips for shaking
Fresh Raspberries for garnish
Instructions:
Begin by combining vodka, cranberry juice, Chambord, and lime juice into a shaker filled with ice. Shake well.
Grab your favorite coupe glass or martini glass and strain the cocktail mixture into the glass.
Garnish the cocktail with fresh raspberries and sip away!
Zombie Zinger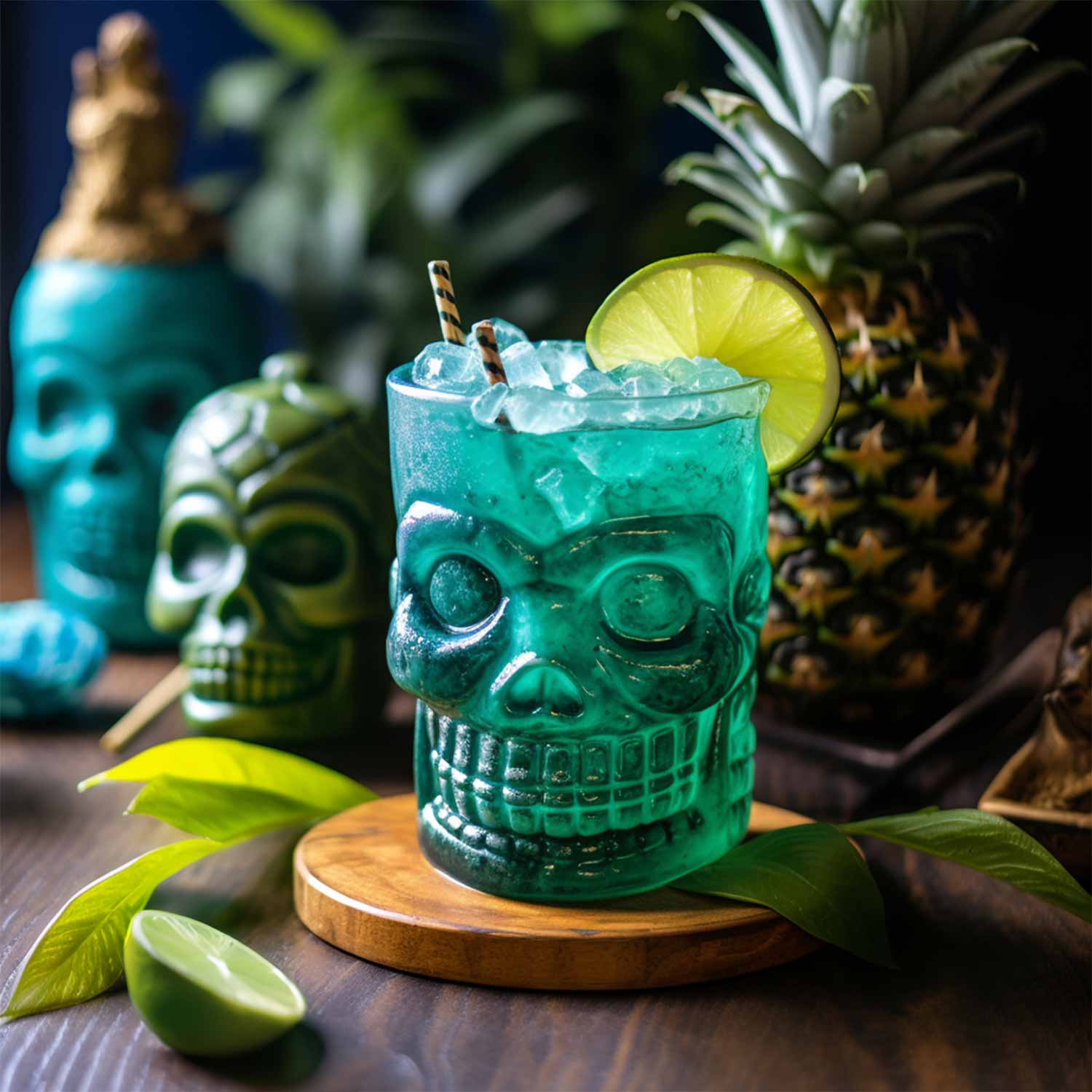 Just because they're undead doesn't mean they can't have fun! This fruity yet fearsome drink is certain to liven up any party from the dead.
Ingredients:
2 oz White Rum
1 oz Pineapple Juice
0.5 oz Blue Curaçao
0.5 oz Lime Juice
1 Large Block Ice Cube
Pineapple wedge for garnish
Instructions:
In a shaker, combine rum, pineapple juice, blue curaçao, and lime juice.
Fill a tiki mug or glass with ice and strain the cocktail in.
Garnish with a slice of pineapple and a lime wheel.
Become alive!!
Phantom Punch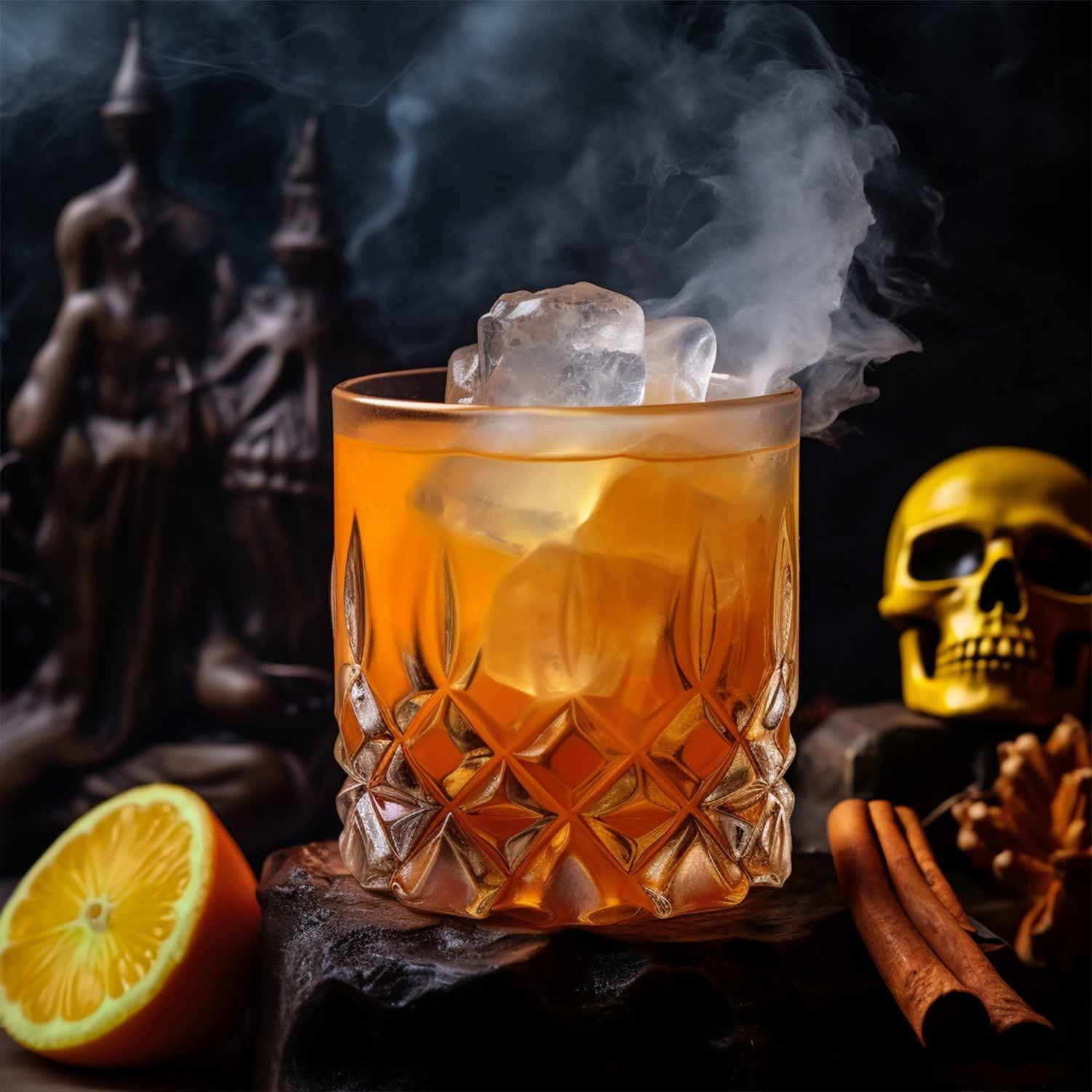 There's no menace here…unless you're counting the hangover. Transform "Did you hear that?" into "Have you tasted this??" with this amazing blend of gin, juice, and much more.
Ingredients:
2 oz Gin
1oz Blood Orange Juice
0.5 oz Cinnamon Syrup
0.5 oz Lemon Juice
1 Large Block Ice Cube
Orange twist for garnish
Instructions
In a shaker, combine gin, blood orange juice, cinnamon syrup, and lemon juice. Shake well.
In a short rocks glass, add a large Block Ice cube and strain the cocktail over it.
Peel and twist an orange rind and add to the glass for garnish.
Drink up!
Are these options not enough for you? Don't worry – us either; check out 7 more spooktacular drinks you can serve and remove any worry about an empty glass this Halloween.
Bring More Spirits To Your Halloween Soiree
There's nothing more frightening than a home that isn't fully stocked with the best spirits, mixers, and artisan ice cubes. If you don't want your guests to run screaming into the night, be sure to stop at a Sacramento-area local Nugget Market to stock up on the best home bar finds, including Block Ice crystal-clear, oversized artisan cubes. Find us in the freezer section!